Madonna Eye Lift
The Madonna Lift, is the non-surgical alternative to improve drooping skin, wrinkles and those telltale signs of aging around the eyes. Using the latest in fractional CO2 laser technology, the skin around your eyes will be rejuvenated for the younger look you desire.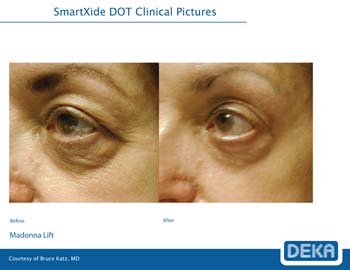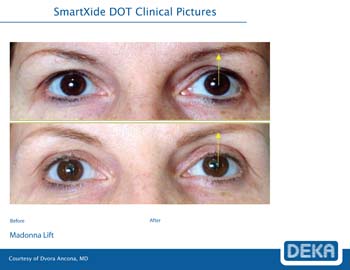 Disclaimer: Results may vary patient to patient. There is no guarantee that any specific result can be achieved. Results may not be permanent.
What is the Madonna Lift?
The Madonna Lift is the newest way to treat the wrinkles and saggy, lax skin around the eyes. Your physician will use the most advanced fractional CO2 laser known as the SmartXide DOT to treat these problem areas. The fractional laser treats deep into the skin around your eyes to plump up wrinkles, tighten the skin, lift sagging brows and improve the appearance...all without any surgical incisions.
How does it work?
DOT Therapy employs the latest fractional technology, which treats only a fraction of the skin at a time. The laser uses specially modulated beams of light about the width of a human hair, to penetrate into the skin. These beams of light destroy and contract the old collagen within the wrinkles and incite the body's natural wound healing process to create new, youthful collagen in the skin. This causes the wrinkles around the eyes to plump up, tighten and soften.
What will it feel like?
You may feel tingling or heat in your skin as the laser is applied. However, any potential discomfort can be easily managed by your physician. Please consult with your physician as to the numbing cream or other anesthetic they may use to make your treatment comfortable.
Will it work for anyone?
The Madonna lift can be used on most patients with drooping eyelids, brows, and wrinkles around the eyes. However, only your physician can tell you if it is right for you.
Is the Madonna Lift good for all skin colors?
The laser used for the Madonna Lift has been cleared by the FDA for use on all skin colors.
How long does it take?
The procedure only takes a few minutes in the physician's office. You may need some additional time to apply topical anesthetic prior to the procedure.
How many treatments will I need?
The number of treatments needed will vary from patient to patient. However, most patients see results right away and full results are seen after 3-5 treatments.
What will I look like after treatment?
Your skin may be red and puffy after the procedure but this usually fades after a day. Make-up can be applied immediately after treatment allowing you to resume your normal daily activities right away.
Is the procedure safe for my eyes?
During the treatment, your physician will protect your eyes with protective shields allowing for safe treatment of the lids and brow area.
How long will the results last?
Results vary from patient to patient but as your body continues to heal and create new strong, healthy and elastic collagen in your lids and eyes, you will continue to see improvement for up to six months after your last treatment. Results should last for several years but, as your skin continues to age, it is recommended you prolong the results with a good skin care regimen and daily protection from the sun.

For questions about treatment with the SmartXide DOT laser, see our FAQ

Contact SOMA Skin & Laser at 973-763-SKIN (7546) for a consultation. Our board-certified dermatologists will select the correct treatment for your skin type./