SculpSure Noninvasive Body Sculpting Now At SOMA Skin & Laser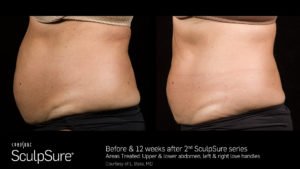 SculpSure Body Sculpting is a non-invasive laser body contouring that helps reduce fat with no surgery and no downtime. It is now available in New Jersey at SOMA Skin & Laser.
Even with diet and exercise, stubborn areas of fat can persist, such as love handles or d a muffin top belly. SculpSure targets and destroys fat cells in these areas safely in a procedure that lasts just 25 minutes per treatment area.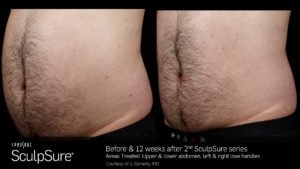 ScupSure is FDA cleared, and has a 90% patient satisfaction rate. Each 25 minute treatment can destroy up to 24% of treated fat cells. SculpSure uses 1060 nm laser technology to disrupt fat cells beneath the skin surface. By heating subdermal fat to between 42° and 47° Celsius, the fat cells are damaged. Continuous contact cooling keeps the skin safe throughout the treatment. Over time, the damaged fat cells are eliminated by the body through lymphatic drainage.
The four SculpSure applicators can be configured in a variety of patterns to treat the areas that you need—and multiple areas can be treated in a single day.  Flanks, abdomen, inner thighs, outer thighs and arms can all be targeted. Most patients feel a deep warmth and/or tingling sensation intermittently throughout the treatment which is generally well-tolerated. After the 25-minute treatment is finished, you can resume your daily activities. There is no post-treatment down time. Results can be seen in as little as six weeks and with optimal results in 12 weeks. A series of treatments is required for optimal results.
Contact us to schedule your free consultation:
973-763-7546
SculpSure Before and After Instructions