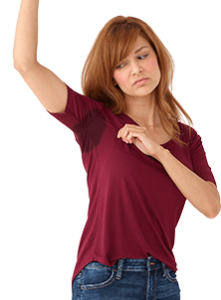 Qbrexza (glycopyrronium) cloth has been approved by the for the treatment of underarm sweating, also known as axillary hyperhidrosis. This medication is classified as an anticholinergic and works by interfering with the neurotransmitter that communicates with sweat glands. It is related to the oral medication glycopyrrolate, which has long been used for hyperhidrosis. One cloth of Qbrexza is used to apply the medication to both underarm areas. In the clinical study, 60% of patients using Qbrexza reported a significant improvement in symptoms versus 28% with an alcohol-based vehicle wipe. The amount of sweat produced was also objectively measured gravimetrically (i.e. they weighed sweat pads). At week 4, Qbrexza-treated patients had a 74% decrease in sweat production vs 54% in those treated with vehicle.
Safety of Qbrexza
It appears that a good amount of drug is absorbed through the skin. The incidence of systemic anticholinergic side-effects was high.  Anecdotally, this is quite a bit higher than seen in clinical practice with the use of oral glycopyrrolate. In the Qbrexza study, 24% experienced dry mouth, 6.8% mydriasis (dilation of the pupil), 5.7% oropharyngeal pain, 3.5% urinary retention, 3.5% blurred vision, 2.6% nasal dryness, 2.6% throat dryness, 2.4% dry eye, 2.2% dry skin, and 2.0% constipation Redness, burning and itching were common local skin reactions.
It is very important to wash hands thoroughly after using, as inadvertent transfer to the eye could result in mydriasis and blurred vision. Caution should be used in patients with preexisting urinary retention. Caution when used in the presence of high ambient temperature as heat stroke can occur if a generalized lack of sweating occurs.
Contact your SOMA Skin & Laser dermatologist at 973-763-7546 to treat hyperhidrosis now.