BLU-U – Blue Light For Acne
Ask your SOMA Skin & Laser dermatologist or treatment provider about BLU-U for acne at your next office visit. Schedule an appointment now at 973-763-7546.
What is BLU-U for acne?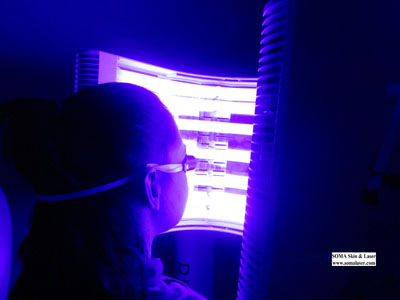 Blue light is an innovative treatment for moderate acne. If you have moderate acne and are uncomfortable taking antibiotics or are unhappy with your current topical treatment results, BLU-U blue light therapy – using light without drugs or antibiotics – may be for you. BLU-U is a unique blue light that kills the acne-causing P. acnes bacteria in your skin. During each treatment, you sit with your face close to the blue light for approximately 17 minutes. The treatment is repeated once or twice weekly for about six weeks. After several weeks, the blue light can help control your acne.
Is BLU-U for acne painful?
BLU-U for acne is safe. It is not hot or painful.
Can I take acne medications with BLU-U?
You can generally continue to use many of your acne medications with BLU-U, but be sure to consult with your dermatologist first.
Is BLU-U different from photodynamic therapy (PDT)?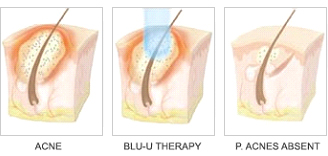 In BLU-U, blue light alone is used to target the bacteria that contributes to acne. In photodynamic therapy, a sensitizer called Levulan is first applied to the skin. This causes a much stronger reaction, including redness and peeling. Photodynamic therapy can be very helpful for acne, but you must be willing to accept the short-term side effects of the treatment. In photodynamic therapy other light sources, such as the V-beam laser, are sometimes used in place of blue light.