Juvederm Voluma is a hyaluronic acid filler, typically used in the mid-face to lift the cheeks. It is used off-label in many other areas, such as along the jawline or in the temple area.
Loss of volume in the temporal fossae (the lateral sides of the forehead) is common with age. Fillers, including fat, hyaluronic acid, and polylactic acid (Sculptra). have been used in the area for many years. A recent study investigated the safety and efficacy of Juvederm Voluma, a 20 mg/ml hyaluronic acid gel, in this area.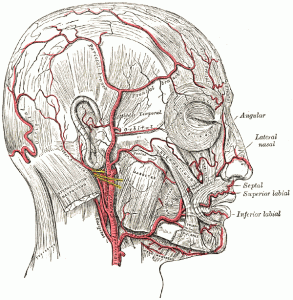 It is important to know the vascular anatomy of the temporal fossa. There have been some safety concerns when injecting in this area due to the proximity of the ophthalmic artery. Obstruction of this artery can cause blindness. The ophthalmic artery is not actually in the temporal fossa. The superficial temporal artery passes through this space. The concern is that injection into any vasculature in the temporal fossa could flow retrograde to the internal carotid and then the ophthalmic artery.
Precautions should be taken to ensure that Voluma is not injected into a blood vessel. The temporal fossa should be palpated to determine the location of arteries, and the needle should be aspirated prior to injection. Injection should be done slowly with low pressure using small increments. A small syringe and small needle should be used.
In the study mentioned above, 30 subjects were injected with Voluma in the right and left temporal fossa at baseline, receiving up to two 1-ml syringes of Voluma per side. A touch-up injection was performed after two weeks, with evaluations at 1, 3, 6, 9, and 12 months. The primary endpoint was the investigator's score on the Frontal Temporal Fossa Rating Scale.  The average total volume used for both temples was 2.1 cc.
In 98% of the temples treated, a 1 or more point improvement on the rating scale was observed. In terms of safety, jaw pain was an unexpectedly observed adverse event, occurring in 11 patients. Other adverse events were predictable and typical for filler injections, including bruising, erythema, tenderness, swelling, lumps and bumps. Headache was noted in one-third of patients. No vision impairment was observed.
Voluma, like all hyaluronic acid fillers, can be dissolved with hyaluronidase if necessary. It is a promising filler for use in the temporal fossa.
Contact SOMA Skin & Laser Today For A Consultaion For Loss Of Volume In The Temples 973-763-7546