GentleMAX Laser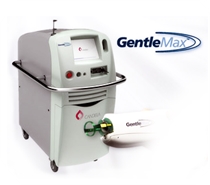 We have a large number of lasers for different skin types and skin conditions. The GentleMax laser is a particularly versatile laser system. The GentleMAX laser is actually two lasers in one system, allowing the safe and effective treatment of all skin types from light to dark.
The GentleMax laser is our workhorse for laser hair removal. For lighter skin types, we use the alexandrite laser, and for darker skin types we use the Nd:YAG laser.
In addition to laser hair removal, the lasers in the GentleMAX are commonly used for:
Leg Veins and Telangiectasia (small vessels) – The Nd:YAG laser can be used to treat telangiectasias and reticular veins.
Certain Vascular Lesions – Both the alexandrite and Nd:YAG lasers are used for certain vascular lesions, especially deeper hemangiomas.
Benign Pigmented Lesions (sun spots, seborrheic keratosis) – The alexandrite laser is effective in treating sun spots and seborrheic keratoses. Usually we use this laser for thicker lesions and prefer the Revlite 532nm Q-switched laser for most freckles and sunspots.
Skin Tightening/Wrinkle Treatment – The Nd:YAG laser can be used for skin tightening. For the most part, however, this technique has been replaced with the Venus Freeze.
Your SOMA Skin & Laser physician will evaluate your skin type and condition and suggest the most appropriate treatment. Multiple treatment sessions are typically required for optimal results.