Michael Ehrenreich, MD, FAAD, Dermatologist and Medical Director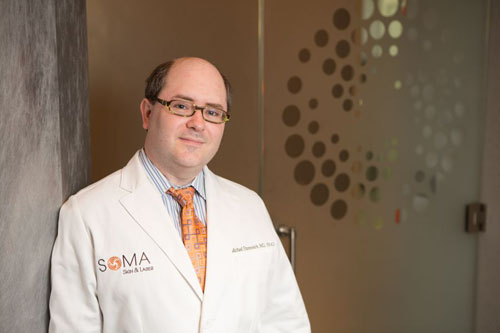 Dr. Michael Ehrenreich is the Medical Director of SOMA Skin & Laser and Chief of the Division of Dermatology at Newark Beth Israel Medical Center. He attended Medical School at University of Medicine & Dentistry of New Jersey, New Jersey Medical School, where he was nominated to alpha omega alpha, the medical honors society. Dr. Michael Ehrenreich completed his internship at St. Barnabas Medical Center, and his residency in dermatology at SUNY Downstate Medical Center. Dr. Ehrenreich holds an MA in biological sciences from Columbia University and a BS in finance from Yeshiva University. Dr. Michael Ehrenreich is a Fellow of the American Academy of Dermatology, a diplomate of the American Board of Dermatology, and a member of the American Society for Dermatological Surgery, the American Society for Mohs Surgery, and the National Rosacea Society. His interests include medical dermatology, cutaneous surgery, laser surgery, and cosmetic dermatology. Dr. Michael Ehrenreich has authored a number of academic publications in the dermatology literature, and is a noted authority in tissue engineering.
In 2012 Dr. Ehrenreich was nominated one of "NJ's Favorite Kids' Docs" by New Jersey Family Magazine, recognizing him for "providing outstanding and compassionate healthcare to children."