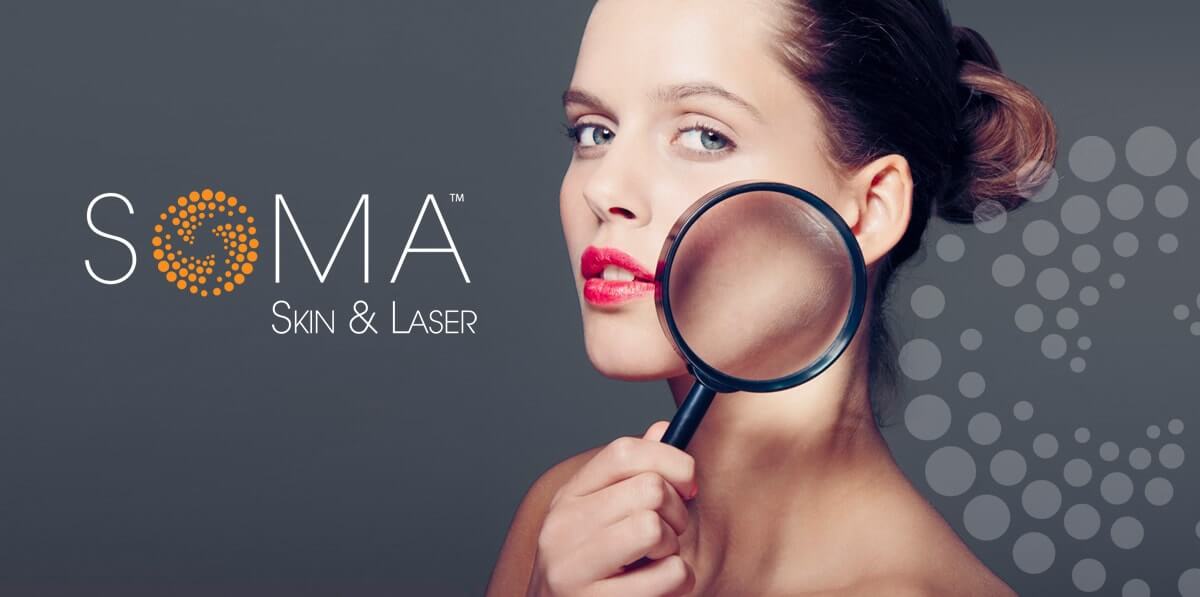 10% off

Good on cosmetic procedures, including botox, filler and laser.

** Image does not indicate results from any specific procedure
SOMA Skin & Laser New Jersey Dermatology
Millburn, NJ and Paramus, NJ
Welcome to SOMA Skin & Laser, New Jersey's premier destination for general, cosmetic and surgical dermatology. Whether it is the latest in cosmetic and aesthetic dermatology, a full skin exam, or skin cancer surgery, SOMA Skin & Laser dermatologists and treatment specialists will provide state-of-the-art care in our beautiful and modern facilities located in Millburn, NJ and Paramus, NJ.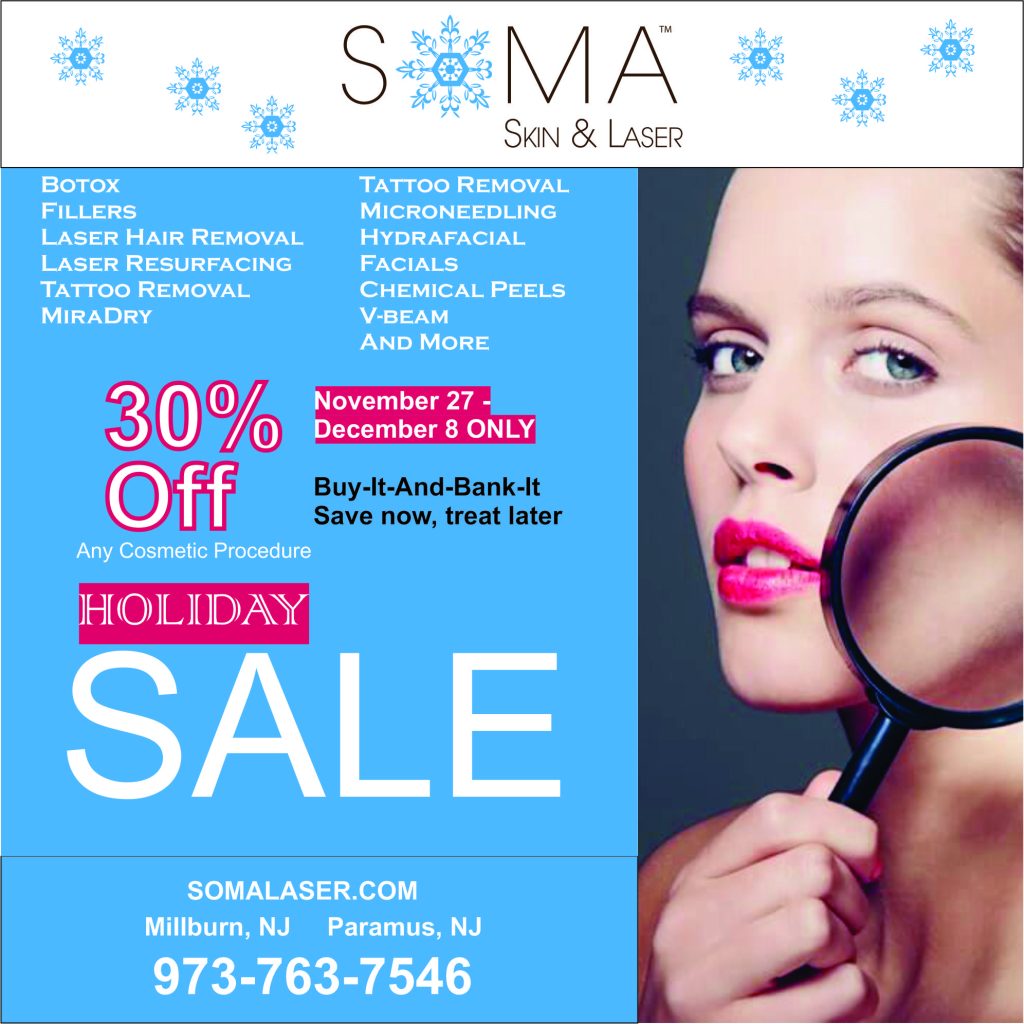 Michael Ehrenreich, MD, FAAD
SOMA Skin & Laser is under the medical supervision of Michael Ehrenreich, MD,
FAAD, a board-certified dermatologist. Dr. Ehrenreich founded SOMA Skin & Laser in 2011.
About Our Laser Dermatology Services
SOMA Skin & Laser's dermatologists offer numerous laser and light procedures for a variety of skin conditions. Acne can be treated with BLU-U blue light or photodynamic therapy (PDT), and acne scarring can be addressed with Vbeam and the DEKA CO2 laser.
Laser Hair Removal for all skin types is available using the Candela GentleMAX laser. Rosacea and vascular lesions are also treated with the Vbeam laser. Scars, pigmentation problems, skin tightening, and wrinkle reduction are all treated. If your lids are drooping, the Madonna eye lift procedure is available as well, utilizing the DEKA CO2 laser.
Laser tattoo removal is available using the state-of-the-art q-switched RevLite laser. Laser treatments for psoriasis and vitiligo are provided with the Excimer laser. If you have excess sweating under the arms, treatment for hyperhidrosis (sweating) is provided with the MiraDry device. MiraDry can also be used to remove hair. The Venus Freeze radiofrequency device is used for skin tightening.
At SOMA Skin & Laser, we offer a variety of laser treatments for various skin conditions.  We are constantly adding new equipment and new services.  If you don't see what you are looking for here, please call the office to inquire. Your SOMA Skin & Laser physician will begin with a consultation to understand your needs and goals.  Your physician will take a general medical history and a skin-specific history, and discuss your previous cosmetic and laser procedures, before selecting the treatments that are right for you.
About Our Cosmetic Dermatology Services
SOMA Skin & Laser's dermatologists offer Botox and Skin Fillers, which are a great complement to laser rejuvenation or other laser treatments. Botox is used to treat dynamic wrinkles and lines on the face, while dermal skin fillers, such as Juvederm Voluma and Juvederm Ultra Plus, are used to restore volume in the cheeks, nasolabial folds, and other areas of the face. Even the hollows under the eye can be improved with fillers. Fillers are also a great way to create full and voluptuous lips. We offer Kybella, to reduce fullness under the chin, and treatments for rejuvenation and hair restoration.
We also offer a range of spa services including facials, microdermabrasion, and chemical peels, as well as the very popular hydrafacial and NeurotriS Microcurrent.
About Our Medical and Surgical Dermatology Services
SOMA Skin & Laser's dermatologists provide a full spectrum of general, medical and surgical dermatology for children and adults. From acne and eczema to mole checks, your SOMA Skin & Laser dermatologist is there to help. Whether removing a skin tag, an excision for skin cancer or a cyst, or freezing or laser for a wart, we're here to help. If it involves the skin, hair, or nails, talk to us first.
SOMA Skin & Laser Location
Millburn, NJ
SOMA Skin & Laser has an office in Millburn, NJ at 90 Millburn Avenue, Suite 206, Millburn, NJ. If you are looking for a dermatologist in Millburn, and near to Maplewood, South Orange, West Orange, Livingston, Short Hills, Springfield, Newark, Summit, Chatham, Madison, Morristown, or a Dermatologist in Northern New Jersey, please contact us.
Paramus, NJ
SOMA Skin and Laser has an office in Paramus, NJ in Bergen County at 275-277 Forest Avenue, Suite 120, Paramus, NJ. If you are located in Bergen County, Paramus, Oradell, Hackensack, Ridgewood, Ramsey, Paterson, Clifton, Montclair, Teaneck, River Edge, Fair Lawn, Hawthorne, Glen Rock or surrounding areas, please contact us.
**Results may vary patient to patient. There is no guarantee that any specific result can be achieved.