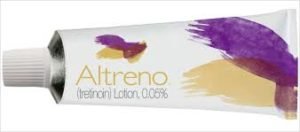 Altreno, a new form of tretinoin was recently approved for the treatment of acne in patients aged 9 years and older. Altreno contains 0.05% tretinoin, in line with previous cream and gel formulations. The main difference between Altreno and previous forms of tretinoin is that Altreno is a lotion.
Altreno may cause less skin irritation
Topical retinoids are highly effective in treating acne, but they often cause skin irritation, such as dryness and peeling. In clinical trials, Altreno lotion was reported to cause skin dryness, pain, swelling, irritation and peeling  in less than 4 percent of patients.
Altreno was studied in two phase 3, double-blind, vehicle-controlled clinical trials enrolling 1640 acne patients aged 9 years and older. Like other forms of tretinoin, the use of Altreno lotion for acne resulted in statistically significant reductions in acne lesions compared with vehicle.
Altreno is a welcome new topical acne treatment that may result in less skin irritation than other formulations, such as tretinoin gel or cream or tazorac. As with most new products, insurance coverage may be a barrier to adopting this new acne treatment.