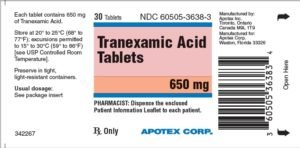 Recently there has been a lot of excitement about the use of tranexamic acid for the treatment of melasma. Tranexamic acid is currently FDA-approved by prescription for the treatment of heavy menstrual bleeding, but off-label studies suggest that it is effective in the treatment of melasma when used at a low dose of 250 to 500 mg twice daily.
Tranexamic acid  is better known as a pro-coagulant–that is it stops bleeding–and for this reason is used for heavy menstrual bleeding and as bleeding prophylaxis before certain procedures. However, it also interferes with melanin production and melanocyte-keratinocyte interactions in a number of ways.
Tranexamic acid for melasma in clinical trials
In one study (J Am Acad Dermatol. 2018 Feb;78(2):363-369) of 44 patients, the group that received 250 mg twice daily of tranexamic acid experienced a 49% reduction in melasma severity at 3 months versus 18% for placebo. Other studies have show efficacy for topical formulations of tranexamic acid for melasma, and it is an ingredient in several cosmeceuticals.
How to use tranexamic acid for melasma
Since only a 650 mg tablet  is available by prescription in the U.S., one simple protocol is to take half a tablet twice daily (use a pill splitter).  Treatment should be for a minimum of 3 months to determine response, and must be maintained, as relapse is common. Combination with a topical lightening agent containing hydroquinone, such as TriLuma, is recommended. Sessions with a low fluence q-switched Nd:YAG laser , such as the Revlite, may be helpful as well. Sun protection is essential, or most treatment for melasma will fail.
Since tranexamic acid is a pro-coagulant,  it should not be used in people with a history of clotting disorders, deep vein thrombosis, pulmonary embolism, pregnant or nursing women, and women on oral contraceptive pills.
Contact SOMA Skin & Laser 973-763-7546 for a melasma consultation today.