Dermaplaning
What is Dermaplaning?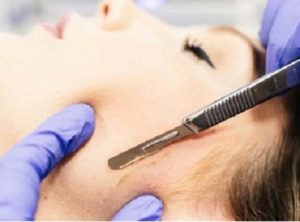 Dermaplaning, also known as Epidermal Leveling or Blading, is a safe, gentle and effective skin care treatment of manual exfoliation. It is safe for all skin types.   Dermaplaning removes the outer layers of dead skin cells and safely removes the Vellus hair known as "peach fuzz".  The immediate results are smooth, soft and more radiant skin.
How is a Dermaplane treatment performed?
A Dermaplane treatment is performed using a sterile surgical blade which is held against the skin at a 45 degree angle and gently stroked along the skin, similar to shaving.  The skin care professional holds the area of skin taught while stroking the skin with the blade, removing the outer micro-layers of the skin and any hair in the area.  The treatment is painless and there is no downtime.  Products applied after the Dermaplaning are absorbed better, and monthly treatments will improve the skin.  It is recommended to wait at least 3 to 4 weeks between treatments.  Those with active acne lesions or excessive oil production are not good candidates for Dermaplaning.
What are the benefits of Dermaplaning?
Gentle exfoliation (good for sensitive skin, Rosacea, and during pregnancy)
No downtime (return to activities immediately)
Removes Vellus hair, "peach fuzz"
Improves softness, smoothness and clarity of the skin immediately
Safe and painless
Reduces the appearance of light surface wrinkling
Smooths acne scarring
Improves skin texture
Helps to unblock blackheads
Reduces the appearance of enlarged pores
Generates new healthy cells
Enhances penetration of skin care products
How many Dermaplane treatments will I need?
Treatments only take 45-60 minutes and regular treatments are scheduled about 3-4 weeks apart. Blading the skin actually removes about 2-3 weeks worth of dead skin cells.
How much does Dermaplaning cost?
This treatment is $125 per procedure and includes a cooling mask or cryoglobes
$75.00 if added to a Facial, Chemical peel or Oxygen treatment
Package of 4/$450 (10% savings)
Package of 6/$600 (20% savings)