Manual Lymphatic Drainage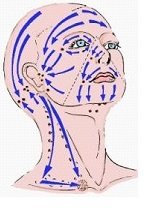 Lymphatic drainage massage is a technique to help increase lymph flow. Harmful substances are removed from the tissues and neutralized in the nodes. Lymphatic drainage has benefits ranging from detoxification of the body, regeneration of burned, injured or wrinkled tissue, anti-aging effects, and relief of sinusitis, bronchitis, and ear congestion. It can also decrease swelling and is used pre- and post-surgery, including face lifts, laser treatments, and dental work.
Lymphatic drainage uses very light pressure and long, gentle, rhythmic strokes to increase the flow of lymph. The lymph system is part of your body's immune system and helps fight infection. The proper functioning of the lymphatic system is critical to our body's ability to drain fluids, detoxify, regenerate tissues, filter out toxins and foreign substances, and maintain a healthy immune system.
Cost of Manual Lymphatic Drainage of the Face, Neck and Head
$150.00/ hour
$85/ 25 min.
Call 973-763-7546 to schedule your Manual Lymphatic Drainage consultation today